Every month, the planets change signs and affect our relationships. Depending on the planetary movements, it may be tough to understand the needs and desires of the Libra man. But with my tips based on the monthly energy, you can draw the attention of a Libra man or improve your relationship with one in November 2020.
Attracting a Libra Man in November 2020
1. Make Him Feel Special
After an exhilarating Libra Season in his sign, the Libra man is looking forward to slowing down and getting grounded in his emotional security in November 2020. 
From November 1 until November 21, the Sun in Scorpio will illuminate the Libra man's second house of needs and values. As Scorpio is the sign of rebirth and death, the Libra man is more sensitive and needy than usual. 
During this period, his focus is on finding healthy ways to build his self-confidence and material assets. 
Because the fixed-water energy of Scorpio can be overwhelming at times for diplomatic Libra, do what you can to make sure he feels special. 
When the Sun is in Scorpio, the Libra man is most attracted to the woman who understands his need for emotional stimulation and does not make him feel guilty for it. 
Instead of reinforcing unhealthy behaviors, he wants someone who brings stability and consistency. Someone who he can rely on to empower him when he feels weak. 
As a woman attracting the Libra man, look for simple ways to make him feel special. And as a relationship astrologer who has helped many women connect with a Libra man, I can tell you that the best way is to validate his feelings. 
Listen to him when he wants to talk, and respect the distance when he needs it. Because if you can show the Libra man that he's genuinely accepted, the love and intimacy he gives you is unmatched. 
You won't be able to peel him off you. 
2. Give Him Time to Figure It Out
If you know a Libra man, you may know that he is one of the Zodiac's most indecisive and flirtatious signs. 
Being born under the sign of the scales, his focus in life is about being a fair player. He never wants to feel like he is the reason why someone else feels wronged. 
However, in November 2020, the Libra man will get a break from worrying about what everybody wants and expects from him. 
From November 1 until November 27, Venus, the planet of love and relationships will journey through his first house of self in Libra. In astrology, the first house rules one's identity and ego. 
When Venus is in the first house, love possibilities become more pronounced. It also gives the Libra man a new perspective and fresh beginning. 
He may have more potential suitors than he bargained for. 
Because Venus is transiting through his first house of self, he may be a lot more flirtatious and busier than usual. And if he does have other people on his mind, he may be feeling indecisive and need some space to figure things out. 
During this transit, the Libra man is most attracted to the woman who respects his space without feeling too clingy or possessive. 
Remember, the Sun is in sensitive Scorpio for the majority of this transit, so he's still focused on his emotional well-being and momentary needs. Relationships are not his top priority. 
If you want to let the Libra man know you are still interested without crowding his space, send him a text and let him know you are thinking of him. 
There are plenty of non-invasive ways to reassure him you are serious about building a connection. 
Get creative. He will enjoy it. 
3. Let Go of the Past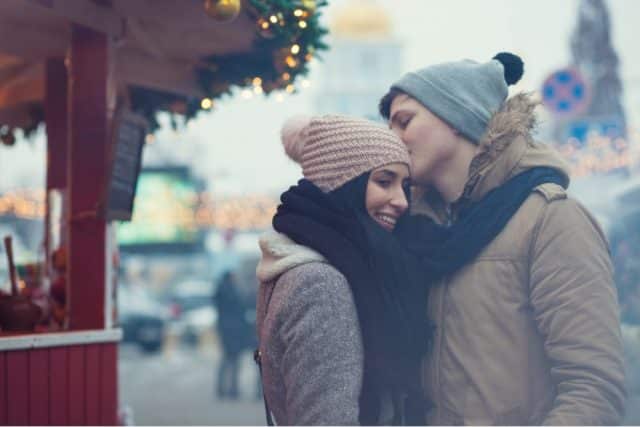 Are you or the Libra man still clinging on to toxic relationships from the past? Is it time to forgive and forget? 
If yes, fortunately, Mercury ending its retrograde cycle in his sign of Libra on November 3 can help with that. 
In astrology, Mercury Retrograde is a three-week transit that slows down communications and encourages you to review and reflect. On November 3, the miscommunication and disagreements you experienced in October should lessen, or you will become more aware of the root cause of your drama.   
From November 10 until December 1, Mercury, the planet of thought and information, will re-enter the Libra man's second house of Scorpio. In astrology, Mercury in the second house focuses on traditions and values. 
Because Mercury is in transformational Scorpio, the Libra man's mental focus is on releasing unhealthy habits and relationships patterns. 
During this transit, the Libra man is most attracted to the woman who is understanding of his need to attract healthy relationships. He wants someone who is also looking to release the past and carve out a new path. 
To attract the Libra man during this intense transit, establish a healthy system of communication. 
Be transparent from the beginning about what you want and what you need. By doing this, you will eliminate any confusion that occurs once Mercury moves into Sagittarius in December. 
Read next: Libra Man Personality – Far Better than Others
4. Be Someone He Can Trust
When it comes to love and the Libra man in November 2020, he needs someone he can trust. 
The Scorpio New Moon on November 16 is an excellent time to carve out a new path for intimacy and trust to grow. Rather than worrying about what anyone else feels or think, this is your opportunity to let the Libra man know you are what he wants. 
Just give him some time to commit. 
If you're wondering when he will start to come around or give you an answer, you may receive it on or around the November 30, the Gemini Full Moon. 
With Gemini ruling the Libra man's ninth house of exploration and adventure, this Full Moon means he is more open and willing to take a leap of faith and try something new. 
Just remember that November is an emotionally intense month for this delicate air sign. Take things one baby step at a time and love will bloom. 
If you want to attract a Libra man in November 2020, make him feel special, give him time to figure things out, let go of the past, and be someone he can trust. Let him know that you are patient and willing to give him the consistency he is craving and needs. 
If you're ready to dive deeper and start your journey to unconditional love with your Libra Man, my guide Libra Man Secrets is better than any daily, weekly, or monthly horoscope app you'll ever read. 
Instead of just giving you the basic knowledge of the Libra man, I share real-life stories and examples of women who have been where you are and now have the relationship of their dreams. In this intuitive guide, I'll share with you my top secrets for winning the heart of the Libra man. If you're ready to stop chasing the Libra man, purchase Libra Man Secrets here.
What are you hoping November will bring to your relationship? Let me know in the comments—I'd love to hear from you!
I look forward to hearing from you. 
Your sister and relationship astrologer,
Anna Kovach