Hello sweetheart, are you looking for information on your Libra man, I'm happy to tell you that April is going to be a fantastic month for your relationship.
It's a wonderful time to get married, engaged or to take your relationship with Libra man to the next level, so if you've been dating or in a casual relationship, it's going to become deeper and more meaningful.
If you are married, this could be a time when you and your Libra partner make a significant life decision together.
This is definitely a good month for planning travel together, but may not be the best month for any international travel simply because there are likely to be a lot of problems, delays and maybe strikes or infrastructure breakdowns.
So if you do travel extensively, do take out insurance, don't take your finest clothes in case your baggage gets lost, and get ready for some surprises. Embrace the spirit of adventure but don't try and stick too closely to a schedule.
Eclipse in Aries – 20th April
The solar eclipse happens in the last degree of Aries, which means it's affecting both his solar 7th and 8th house, and this means important developments in relationships, but also in reference to money.
So this month it's very important for you and your Libra partner to get your heads together, negotiate and come to arrangements that are both financial in nature, but which also affect the future of your relationship. A very good example of something that could be happening this month, is a couple who decide to move in together, put a deposit on a home, or perhaps decide to get married and start a fund to raise money for the wedding.
If you're already married, it may be time to set yourself a new relationship goal, like moving somewhere that will enhance your life, or even starting a business with your Libra partner. This is a powerful month for the sort of decisions which have a financial element and also involve team work and mutual decisions within your relationship.
Sun Conjunct Jupiter in Aries – 11 April
Sun conjunct Jupiter in Aries superchargers his ability to make a great impression, which means this is a fantastic time to be in the dating game and meeting a Libra guy. It doesn't have to necessarily mean you and Libra guy will immediately enter a romance, it could also be meeting a Libra guy with whom you plan to do business or have a business relationship with, but which develops into romance over time.
If you are married to Libra guy and things have been difficult or you haven't been getting on, this is a fantastic month to press the reset button, to re-engage in conversation and even to get some outside help from someone like a marriage counsellor, in order to get things back on track.
Mercury retrograde Conjunct Uranus in Taurus – 21st April
April 2023 is set to be a very turbulent months across the globe, and for all star signs, when it comes to the financial markets and the banking sector. Libra guy in particular will be affected and so it's very important for you both to keep an eye on your finances, to be diversified and to stay flexible.
This is not a great time to enter into any long-term arrangement like a mortgage or a long-term loan, simply because your needs and interest rates could be fluctuating, and it may be difficult to get a handle on what the future looks like this month. So it's best to stay alert and keep your options open.
This is also not the best month for you as a couple to pool money with other people in a joint project. Stay as independent as possible and make sure you have access to a range of cash and money in different sorts of institutions, banks or even crypto.
Venus in Gemini Square Saturn – 14th April
This is not the most opportune month for him to be travelling, particularly work-related travel, even he does decide to travel it can actually be quite hard work and may not be as interesting or productive as he had planned.
This is also a month where he has to work harder to impress his clients. Either his boss or your clients can be hard task maskers, and they demand quality and punctuality, so it's very important to support him while he puts in more hours.
April is a month where you have to be consistent and motivating, as his partner, and stay on message, don't do anything to confuse him as he's easily distracted. So it's very important to help him stand calm and encourage him to be consistent and work to a steady pace. Keep boosting his ego and reinforce his notion that he's doing a great job.
Mars in Cancer Sextile Uranus – 28th April
Mars in Cancer indicates that it's a good month for Libra guy to get ahead in his career, but he won't necessarily always win the approval of his boss. Libra guy likes to be diplomatic and pragmatic, but he's quite impatient now, and has a strong sense of right and wrong and that can lead him to lock horns with authority or bureaucracy. So when he's frustrated, reassure him that rewards are coming and a little patience is needed.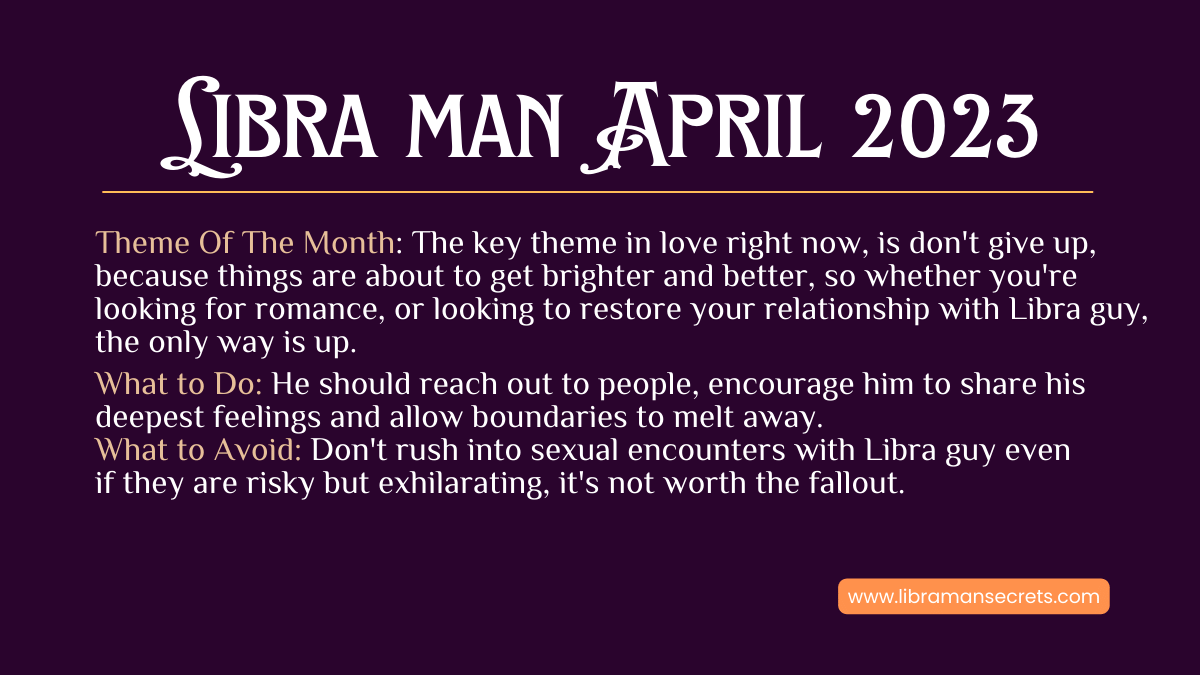 Theme of the Month: The key theme in love right now, is don't give up, because things are about to get brighter and better, so whether you're looking for romance, or looking to restore your relationship with Libra guy, the only way is up.
Magic Phrase: "You are an expert at managing people and have brilliant social skills."
Magic Text: "Let's forget the world and make our own rules going forward."
Do: He should reach out to people, encourage him to share his deepest feelings and allow boundaries to melt away.
Avoid: Don't rush into sexual encounters with Libra guy even if they are risky but exhilarating, it's not worth the fallout.
Access Libra Man 2023 Horoscope Here
Week One – Is he feeling Lucky?
In April, Libra guy makes his own luck, that is because hard work and attention to detail lead to results, and it's also through carefully cultivating relationships with other people that he ends up discovering business opportunities.
One of the key features of this month is teamwork, but that doesn't necessarily mean he's going to be working in a team, what it means is that he should share advice with other people and create a reciprocal relationship of trust, that can pay dividends.
Week Two – Second Opinions
April is an excellent time for him to seek advice! This can be business advice, relationship or health advice. Perhaps he needs to pour his heart out or just have a good conversation with an old friend to get a fresh perspective.
He may be looking for someone impartial who can help him with either relationship advice, marriage or business matters. So he may be hanging out with friends or speaking to his father or brother more often. This is the week where he reaches out, as no man is an island, there's no need for him to feel alone and through conversation he will get important and good advice that will lift his spirits and help him glimpse solutions.
Week Three – Romance
This can be quite an interesting week for romance with Libra guy, but he is rather tentative in new relationships, thus it's important to build up the communication, don't try to go too fast. It's important to have lots of dates, giving yourselves ample chance to get to know each other.
Dating in amongst friends, social groups and hobbies really helps ease the tension rather than say, going in a date where you and Libra guy are all alone together feeling quite awkward. It's highly likely that if you meet Libra guy in April, he's going to be a little bit nervous and he might not put his best foot forward, so it's up to you to make him feel relaxed.
Week Four – The windmills of your mind
During this week, his mind can sometimes play tricks on him. Things don't always work out exactly as he had anticipated and he may begin to distrust his judgement. This is why he needs reassurance not criticism. You should console him that he's not becoming paranoid as his typical judicious and fair-minded approach is not going to pot at all, it's just that the normal rules and norms don't necessarily apply this week.
Even if he does take a measured approach and play the percentages, there can still be some surprises, because there is a huge amount of variability and unpredictability, both within people's behavior and within the behavior of social groups. Not only will his colleagues, his boss and his friends surprise him, but he can surprise himself sometimes too, this is why you have to be consistent.
This week he is very free spirited because he won't play the game for the game's sake, he wants to do what he feel is right, not as follow the rules for no purpose.
This week, particularly the last week of April, is most ideal for Librans who are self-employed, starting their own business or who work freelance, where they have lot of scope to do things their way.
It can actually be quite a frustrating week for those Libra men who are in an employment situation when they are quite boxed in and subject to a lot of regulations, because this can be a little bit frustrating, but hey there's always an opportunity for him to put his personal stamp in things, so remind him of that.
So, how does that all sound my Darlings. Remember, I'm always here to guide and support you.
Just a little reminder that April brings relationships into focus and it's possible to take relationships to a new and more fulfilling level.
Even struggling relationships can turn the corner.
Give him good advice and allow him to access all the support available to him and he will really appreciate and respect you.
This is a suitable time for leadership and innovation in his career and he can make a big impact on people, so with patience he can achieve in the outside world.
If this hasn't quenched your thirst, you know where to find me, same place, as always.
Wishing you love and luck with your Libra Man,
Your sister and relationship astrologer,
Anna Kovach