Libra is known as the "relationship sign" of the Zodiac. That's because they're ultra-romantic, good-looking, and full of powerful sex appeal! What's not to love? Here are some of the top reasons that women find Libra men totally irresistible! 
Libra men are so easy to fall in love with! This is something I've seen time and time again as a relationship astrologer. They possess a charming magnetism that makes you go weak at the knees! 
Libra men are flirtatious, knowing exactly what to do to get you wrapped around their little finger. Yet at the same time, they're so attentive to you and your needs that you won't mind being totally under their spell — you'll love it! 
Being ruled by the planet Venus — the planet of love and relationships — Libra men are geared towards intimacy and partnership. They barely have to lift a finger to have you head over heels for them. And usually, marriage is not far from their minds. 
If that isn't enough to make you gaga, here are my top seven reasons why women fall so hard in love with the Libra guy. 
7 Reasons Why Women Fall in Love With Libra Men
1. He's a Charmer
You've probably noticed this, ladies: Libra men are the most charming in the entire Zodiac! 
If they want you, they'll go out of their way to woo you, and it's almost impossible not to be swept away by their flattering attention. He will make you feel like the only woman in the room — which is how every woman should feel with her man! 
Be aware, however, that this charm will not only be reserved for you. Even when in a committed relationship, Libra men are flirts. He really can't help it — it's just who he is! 
Try to enjoy the fact that he has chosen you, and avoid the green-eyed monster taking over! Remember, you're his one and only. And his heart belongs to you completely! 
2. Sex Appeal Aplenty
Libra men, being ruled by Venus, are often drop-dead gorgeous. 
He'll usually have a very balanced profile and pleasing facial and body features that just make you want to never stop drinking him in! Even if he's not conventionally movie-star perfect, there's just something about him.
What's more, he usually dresses beautifully, and he knows how to show off his best assets. And who doesn't like a guy that takes care of himself? 
It can feel like you've won the jackpot having this delicious man at your side! 
3. He's Mr. Romance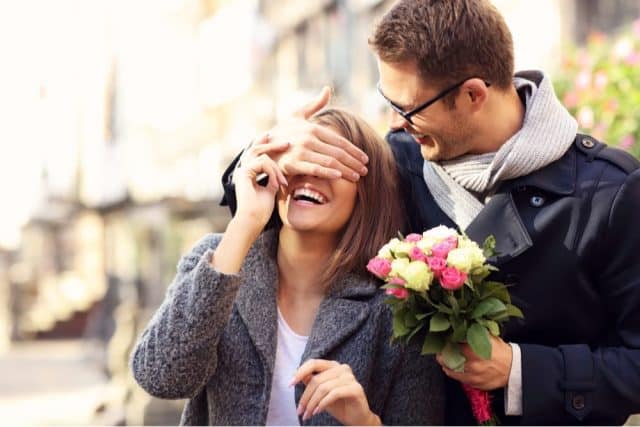 With Libra as the relationship sign, they're brilliant at everything that smacks of romance. Candlelit dinners, delightful visits to the theater, art galleries, sunset hikes, and anything else that's sensually pleasurable is ruled by this sign. 
He'll seldom fall short in the romance department. Even after years of dating, he'll deliver the goods, making you feel like a Goddess. He's all about the flowers and the sweet words, and he loves to make special memories with you — his one true love.  
4. He Wants to Share Everything With You
Libra is represented by the scales, as you probably know.
This means that in all things, Libra seeks harmony and balance. They can feel completely unbalanced when they don't have someone to share their lives with and can get rather despondent without a special person at their side. 
Whether it's his friends, family, hobbies, or home, a Libra man always wants to share the experience with you. He makes it fun, too, as his focus is always on pleasure and joy. 
For most women, this is a dream come true. Having a man who actually wants to do activities with you is ever so appealing, and it's gratifying to know that he'll make equal effort in making quality time for your relationship. 
What's not to love about a guy who's willing to go all-in with you? 
5. He's Totally Focused on You and Your Relationship
Imagine being with a man who is actually focused on you and the health of your relationship! 
The Libra man is that guy. And what a breath of fresh air if you've been with someone self-absorbed or apathetic. You've gotten lucky here, as this sign lives and breathes love and relationships. 
He wants to make your bond one that feels good and pleasurable, and he's willing to do the work to make it so. 
However, be aware that he is more averse than others to anything unpleasant. In his mind, relationships should always be happy and balanced. And most of the time, he makes sure that they are. This is one of the reasons why women fall so deeply in love with a Libra man! 
6. He's Always Willing to Compromise With You
As the sign that's always seeking harmony and balance, Libra men are always willing to meet you in the middle. For this guy, there's no point in being in a relationship where everyone doesn't win. 
This is very rare in anyone, and you'll come to love this quality possibly more than anything else about him. He wants to please you, and that means trying his best to minimize conflict and argument. 
His ability to negotiate comes second to none, and you'll quickly learn from him how relationships should be done! Libra men are the ones that see all sides to a situation and can help tease out the knots in any tense moment.
Imagine a relationship that's mostly conflict-free. This is what a Libra man has to offer! And that's one of the many reasons why you'll fall for him! 
Read next: What Is the Most Common Libra Man Weakness?
7. He's Easy-Going
Libra men are among the most easy-going in the Zodiac. They're seldom possessive, hate conflict, live to please, and are generally easy to live with. 
He won't have a problem with your independence, as long as it's balanced with enough time together. He's amazing at parties, brilliant with your family, and always willing to listen and talk. He gets along with almost everyone. 
Best of all, Libra men are not stubborn or hard-headed. They are focused on working out the very best outcome for everyone in any situation. They make excellent middlemen when there's any conflict in your life, so hand your problems over to him. He will undoubtedly have excellent solutions! 
Treasure every moment you have with your Libra man, and rest assured you have found someone who will always have your best interests at heart! 
So — are you head over heels for a Libra guy? What do you love most about him? I really enjoy hearing your stories. Feel free to share in the anonymous comment section below! 
If you'd like to see if you're compatible, try out my fun compatibility quiz here.
Your friend and relationship astrologer,
Anna Kovach