What is the Libra Scorpio cusp compatibility? Dating a Libra Scorpio cusp guy can seem complicated at times and absolutely delightful at other times. He's a mystery that you want to get into and solve. Libra Scorpio cusp man is the guy you want in bed too.
If you've found a Libra man with a Scorpio cusp, you know he's saucy, sexy, passionate, and makes you weak in the knees. He has all the illustrious qualities a woman would want. There is more that you should know about the Libra Scorpio cusp compatibility. Keep reading to learn all you can.
Libra Scorpio Cusp Man – Sexy, Smart, and Mysterious
Those words are the best three descriptive words when describing a Libra man on the cusp of Scorpio. Libra is already warm, charming, and easy to be around. Scorpio kicks in a bit sexier and passion. What a mix this man is!
Libra man is normally calm tempered and it takes quite a bit to anger him. When he's on the Scorpio cusp however; he may react quicker and may respond in a way that is quite emotionally charged.
Libra man already is quite mysterious on his own accord. Put him on the Scorpio cusp and you may think that you will never get to know who he truly is. He's secretive and doesn't like to talk about his personal feelings.
However; if he finds the right woman; he will settle down eventually enough to trust her and open up. Both Libra and Scorpio tend to not trust easily and in fact; Scorpio cusp will trust even less than Libra.
Libra is very cautious about who he gets involved with and so when he's on the cusp of Scorpio; he really is super careful and somewhat seems paranoid at times. However; his logical side will show him that he doesn't need to be that frightened.
Libra won't always dive into bed right away with a woman but with Scorpio cusp energy may make him want to get that physical fulfillment whether there is a potential relationship there or not.
That being said, the Libra-Scorpio cusp man in bed is something that is very exciting and worth the wait if he does make you hold off. His saucy side will make you crave his touch.
Don't get me wrong; he wants his life partner but he may not pass up "goodies" along the way. Scorpio side is very passionate and loves to interact sexually as often as possible.
Typically when the Libra/Scorpio cusp guy want to find the right woman; he'll hold out on the sex for a short time to test her and make sure that she's loyal to him and someone that he can trust with his heart.
This could be rather time consuming as Libra himself is already cautious where relationships are concerned. So it may take a good long while before a Libra/Scorpio cusp man commits.
Even when you start dating him; he'll still flirt with other women to feel alive and to reassure himself that he's still attractive. He may act available even if he isn't and of course when he gets caught, he acts like a kid with a hand in the cookie jar.
He may not cheat but he will keep his "feelers" out there because until he's totally positive of who he is committing to; he wants to make sure he's not missing out on someone else who may be better than who he's with.
It's not nice and it's not right but he knows what he wants and if he doesn't trust someone; he's not going to waste his energy or heart on that person. His eyes stay open and will keep watching until he "knows" he has the one.
Libra – Scorpio Cusp Man In Bed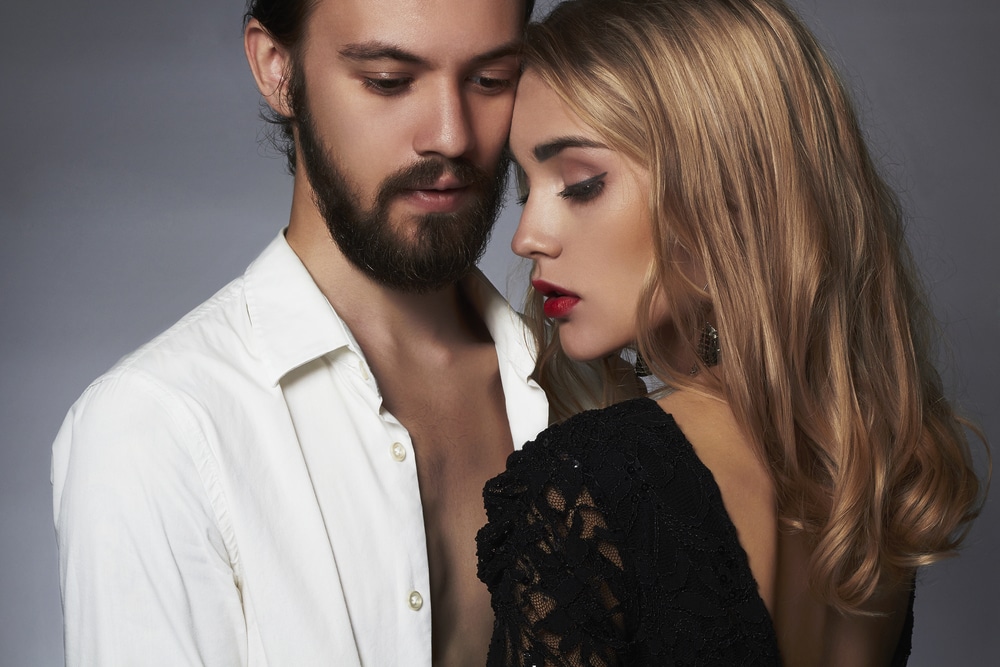 Ladies; I'm not going to lie to you. This blend between Libra and Scorpio could present you a guy that offers to have a "friends with benefits" relationship. It will never go further than that.
I don't want you to think there is hope that it will develop into more. He does this because he wants to have sex with you and keep his options open. He likely will meet someone else later on down the line that will suit him better and then end your "friendship".
So if you get an offer to do this type of arrangement, I wouldn't suggest it unless you're alright with it and don't mind that eventually he will break it off. Just don't let yourself believe you'll ever be anything more than what you've agreed to.
I've seen far too many ladies get involved with this type of guy and get very hurt by him when he decides to call it off and starts actually dating someone. In fairness; when he means "friends with benefits" he means "no strings".
That also means that there is no relationship possible or he doesn't want a relationship with you in particular. He wants you enough to have sex with you but not to have a normal loving relationship.
He probably cares but not enough to want to be more than friends. Keep that fresh in your mind so that you don't let his sexy demeanor change your mind. He IS hot between the sheets but it is worth your heart being broken? No!
Libra Scorpio Cusp Man In Love
It really can be exciting, sexy, and quite heartwarming to date this guy. He will likely be very romantic, physical, and will bring out your own inner desire to play.
He has a way with words and will always know what to say to you to make you stick with him. True enough, he can have a bit of a hot temper. Libra men typically won't say anything right away when they are upset.
The Libra Scorpio cusp man however, will tend to lash out sometimes or want revenge if you've caused him hurt. The Libra Scorpio cusp male is someone who will be puzzling.
You will never really know what side of him you will get. The intellectual bookworm who is seeking success or the indecisive guy who doesn't really ever know what he wants.
When the Libra Scorpio Cusp man in love starts to open up to you, you'll know what you have with him. He will absolutely carry less secrets and will be a little more decisive.
You should be the one he bounces thoughts or ideas off of. It will help him to feel more secure as the Libra Scorpio cusp male may not otherwise feel that strong by himself.
The Scorpio side needs to know he can trust you. Libra already does typically until you break the trust. Otherwise, the Libra Scorpio cusp man in love will give you the benefit of the doubt.
Since the Libra-Scorpio cusp man in bed is something you'll never forget, you'll probably want him at every turn you can get him and who would blame you really?
When the Libra Scorpio cusp man in love makes it clear that you are the woman he wants, you'll have to always be sure you show him that you can be trusted and that he's made the right choice trusting in you.
He will put you on a pedestal and make sure you know that you are his Queen and that he deeply cares for you. Make no mistake… once he decides, he's in it and he won't turn his back unless he feels threatened or that it's not working.
Read next: Libra Man Weakness – Which One You Can Use in Your Favor?
Overall View With Dating A Libra Scorpio Cusp
The Libra Scorpio cusp man will be very driven for success when it comes to his career or job interest. He will immerse himself in whatever it is that he feels is important and will sometimes put love on the back burner.
If he tells you he works a lot of hours and you can see that he doesn't keep in touch with you very well; you're not as much of a priority as his career/job. That being said; you'll have to decide if that is something you can live with or not.
Most women I've known want their guy's attention and don't want to be second or third priority in their man's life. Libra Scorpio cusp male will fall in love with his work or his projects and you will not be his top priority.
This could change later in life when he realizes that his career/job isn't going to cuddle up with him at night nor be there for him forever. Libra Scorpio cusp man will start to get lonely and not understand why he can't find the right woman.
Once he hits that rock bottom; he'll perhaps wake up and decide to finally commit to a woman and give her his all. It's a hard lesson this guy has to learn.
You're probably wondering what the Libra Scorpio cusp compatibility is for your guy. He's going to be drawn to more than just a couple of signs. His favorites would be Leo and Aries but Scorpio side would be drawn to fellow water signs such as Pisces and Cancer.
If you're just scratching the surface with your Libra guy, you should really learn all you can about his sign. It may help you in the long run. Click here for more details on him!
Share your story (or situation) with our community in the comment section below (don't worry, it's anonymous).
Wishing you all the luck of the universe
Your friend and Relationship Astrologer,
Anna Kovach
---
---