There are so many wonderful ways to show your gorgeous Libra fella how much you appreciate him! You don't need to hold back on the romance with this Zodiac sign – after all, Libra is the sign of love and relationships! Here's a few gestures that will make him feel like the most loved-up guy in the whole wide world!
When trying to show your Libra man how much you appreciate him, you can go to town with all the bells and whistles! Pull out all the stops for this man, because there really isn't one thing that he's not going to like – any romantic gesture will make him feel absolutely adored. 
You're lucky to be able to show your love to a Libra guy – he's a sign ruled by the love planet, Venus, making it quite easy to please him. After all, he tends to spoil you rotten, so it's nice to return the favor! 
These are all the ways, drawing from my experience as a Relationship Astrologer, to show your Libra man just how much he means to you: 
7 Ways To Show Your Libra Man That You Appreciate Him
1. Buy Him A Gorgeous Gift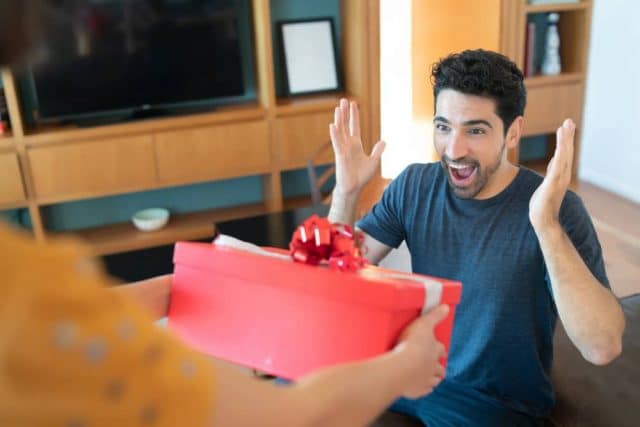 One of the love languages of the Libra man is gifts, gifts, and more gifts! He just loves nice things, whether they be small or large. 
Your Libra man is also very susceptible to beauty, so make sure that whatever you get for him has visual appeal. He will love a stylish t-shirt, a meaningful piece of jewelry, or a beautifully embossed notebook. 
No money? No worries, honey! He'll also love a nice bottle of wine, a bunch of flowers that you picked or even grew yourself, or a box of fine chocolate. Don't be scared to spoil him! 
2. Take Him To The Spa
The Libra man is one guy who will just love going to the Spa with you. He'll adore something like a couple's massage, a joint pedicure, or a facial. 
This is a win-win way to show him how much you appreciate him, because you get to be spoiled too, plus you'll get to spend some quality time together. 
And, Libra men just love quality time, along with gifts. They'll feel absolutely appreciated and loved when you combine this pampering with a date. Kudos to you, ladies! 
3. Print And Frame A Gorgeous Photo For Him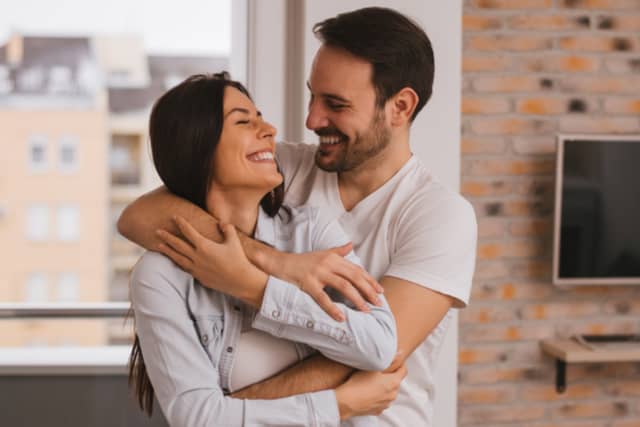 Let's face it – Libra men can be rather vain. They are, after all, one of the most (if not the most!) handsome men in the Zodiac! They like looking after themselves, presenting well, and dressing stylishly. 
One way that you can show him your appreciation and love is if you get him a lovely printed photograph of him at a time where he looked great. This can be a photo of him surfing, or doing some other sexy sporting activity, or a picture of him with his family or friends. 
Can you print a photo of yourselves? Sure, but if you want to make it all about just him, then it's best to take the focus onto him. 
And remember to choose a good frame! His eye for beauty and detail will definitely pick up if you just chose a random one, so make an effort to choose well! 
4. Paint Him A Picture
Can you paint? If so, this is a real winner for a Libra man to feel deeply appreciated. 
Painting or drawing him a picture will make him feel like he was really on your mind, and wonderfully appreciated. It shows that you have taken some real time to show him your love. 
You can do something simple, like a Mandala (Libra's usually love a good Mandala!), or something more intricate. You can draw a quote that you know he likes, if you're not that arty and frame it.  You can even get a portrait of him done, which he should love. 
if you want to "cheat" and are not an artist, then you can also just buy him a piece of art, which is just as grand of a gesture. Either way, he will love it! 
5. Plan A Super Romantic Date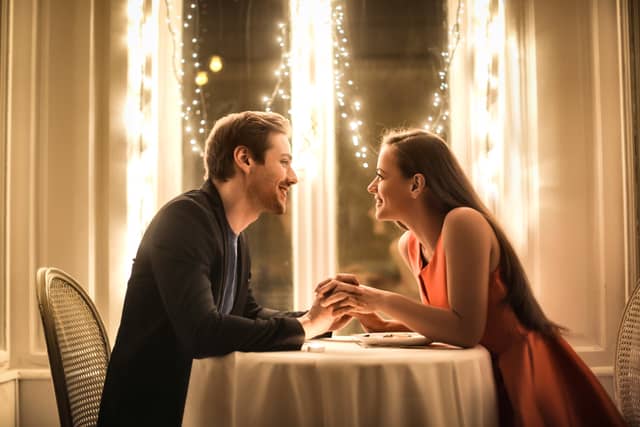 Libra men love, love, love a good date! It's definitely one way to get into his good books and show him your love and appreciation. You can be as romantic as you like, and it will not be lost on him, nor will he think it too "mushy."
In fact, the mushier, the better – just keep it classy, or not too cheesy, as that may put him off. You can take him to a restaurant you know he has been dying to go to, or to see a show of a band he's always loved. You can go to an art gallery together (which he will love), or visit the theater. 
Get creative, and make it an event. Grab him some flowers, dress up and for the bill, even if he protests. Make him feel totally spoiled! 
6. Be Waiting At Home For Him In Something Sexy
One of the very best ways you can show your Libra lover how much you appreciate and adore him is by waiting at home for him in something very sexy! Go and dig out your most gorgeous lingerie, or better yet, buy something new and tasty! 
Leave a little note for him saying that dessert is before dinner tonight and leave a trail of petals leading to the bedroom. Be there, waiting, seductively for him with the lights turned low and the candles lit. You'll leave him with memories he'll never forget, and a feeling of appreciation! 
Read next: 5 Scenarios When It's Okay To Say "I Love You" To A Libra Man
7. Write Him A Love Letter
A beautiful, old fashioned, and memorable way to show him your appreciation is by penning him a special love letter. 
This is a wonderful thing to do, as it can be read over and over again, right into old age! Remember – write the real deal instead of an email – it's so much more meaningful and romantic! 
Make it special. Go and buy some pretty (expensive) paper, scent it with some perfume and pour your feelings of gratitude for him and all eth ways that he lights up your life. Don't forget to compliment and flatter him liberally throughout the letter, boosting his confidence! 
You can seal it with a kiss (pop some lipstick on for that!), and place it in an envelope, leaving it for him to find on his desk, under his pillow, or in his postbox. He will be absolutely blown away at your creativity and effort! 
So, ladies, do you have some tips to share with us to spoil a Libra man and show him just how much you love and appreciate him? 
I would love to hear from you, my wonderful readers, so please go ahead and leave your advice on how to make the Libra man feel loved in the commons box below. Your words will stay completely anonymous, of course. 
If you're looking to grow your love with Libra guy to greater heights, then check out my guide Forever Love With A Libra Man to find out how to sustain your love with him for all time!
Your friend and Relationship Astrologer,
Anna Kovach
---
---